As well as all of the unofficial footage of ICTD2010 that is available on Flickr and elsewhere (see, for example, Tim's blog for a daily selection!), this page includes links to those of the papers and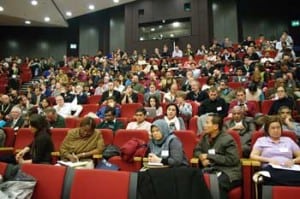 sessions that have been videoed by the openEyA team at ICTD2010, from the media team at Royal Holloway, University of London, and also from our partners ICT4D.at on their YouTube channel.  For the official footage you need to install Silverlight.
Day 1
Official footage of entire day in the Auditorium: opening and postgraduate papers
The Spanish language session entitled Nuevas Perspectivas desde América Latina en TIC para el Desarrollo (New perspective from Latin America on ICTs for Development) (Part 1, Part 2 and Part 3);
The ICTs, Climate Change and Development session (Part 1, Part 2)
Media literacy
The online ICTD2010 pre-conference and online discussion

Part 1 and Part 2 – apologies for the adverts!
Day 2
Official footage of entire day – paper sessions in the Auditorium
Day 3
Geoff Walsham's keynote
Official footage of remainder of day – paper sessions in the Auditorium
Day 4
Official footage of final day in the Auditorium
e-agriculture (Part 1, Part 2)
FOSS and Assistive Technology
Publishing ICT4D
Reflections on ICT4D
Miscellaneous imagery
Bella (from ICT4D.at)'s photos including helpers receiving their certificates
Photos from Ahmed Eisa (Part 1, Part 2, Part 3)
UNCTAD's session on ICTs, enterprise and poverty alleviation
IKM Emergent's conversations with conference participants (YouTube)
IKM Emergent's conversations on Telcraft